UW Medicine Pathology Community Outreach

UW Medicine Pathology participates in variety of community, education and minority outreach activities. The primary focus of our outreach activities is to attract students to education and career opportunities in the health sciences.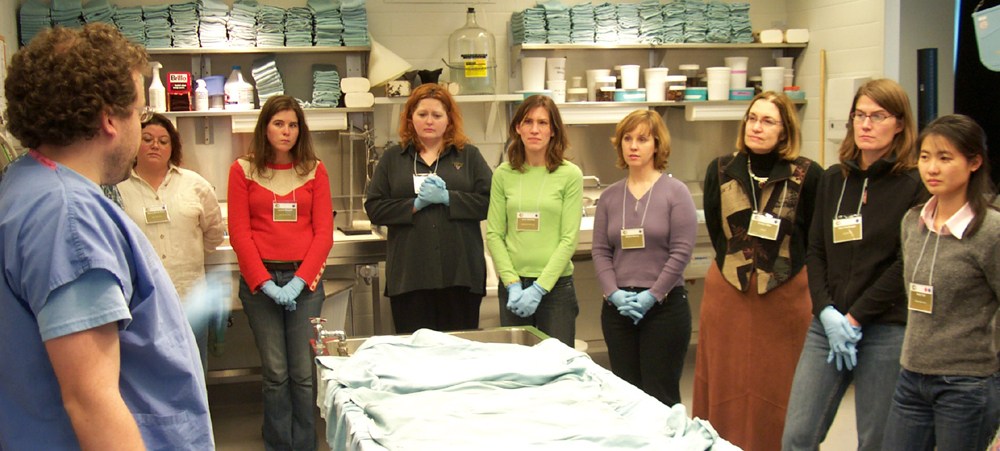 University

of Montana

Upward Bound Visit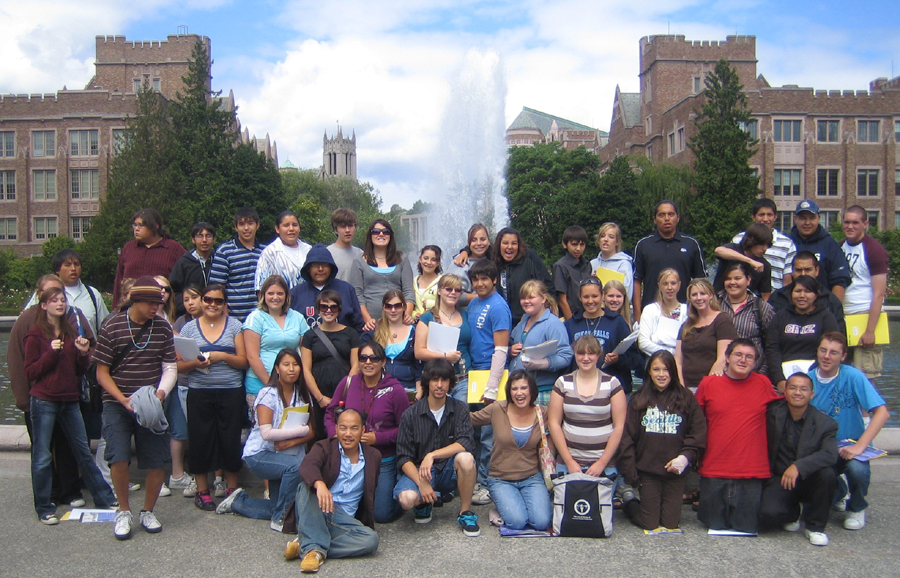 UW Medicine Pathology along with the School of Medicine's Office of Multicultural Affairs hosted nearly fifty Native American and low income high school students from the University of Montana Upward Bound Program on July 30th. The students were exposed to a wide range of healthcare related career and education opportunities during their visit. In addition to providing hands-on, interactive activities for the students, representatives of the Medical Technology Program, Pathology, Multicultural Affairs, Indigenous Wellness Research Institute, MEDEX Program and other student support services also mentored the students on the admissions process, scholarship opportunities, and other university resources. Almost of all of the students had never been to Seattle and most would be the first in their families to attend college.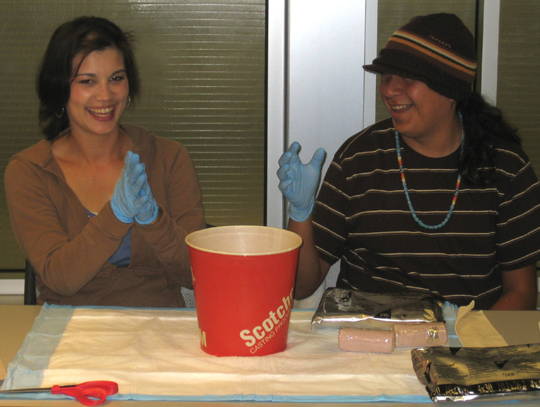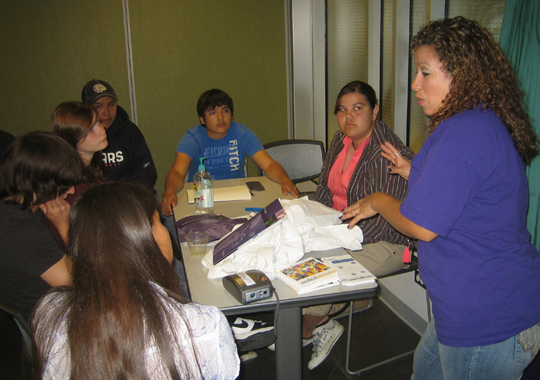 The students were clearly engaged and attentive. According to UM Upward Bound Director Jon Stannard the visit "was simply exceptional" and was the best campus experience they have ever had. One student even suggested that UW staffers must "eat a bowl of sunshine every morning" to be so excited and enthusiastic about their work.
Graduate Program and Minority Outreach
UW Medicine Pathology proactively recruits underrepresented minority students and constantly monitors the development and progress of minority scholars currently enrolled in the graduate program. The Department's approach to recruiting and to retaining qualified students is similar in many respects, and defined primarily by the open access provided by faculty, staff and trainees associated with the program. Meaningful and open communication is encouraged and promoted throughout the recruitment process and actively maintained during the students' academic and research development, fostering an environment of inclusiveness to ensure that underrepresented students do not experience any of the systematic and/or cultural and socio-economic roadblocks that can adversely impact their academic and career goals.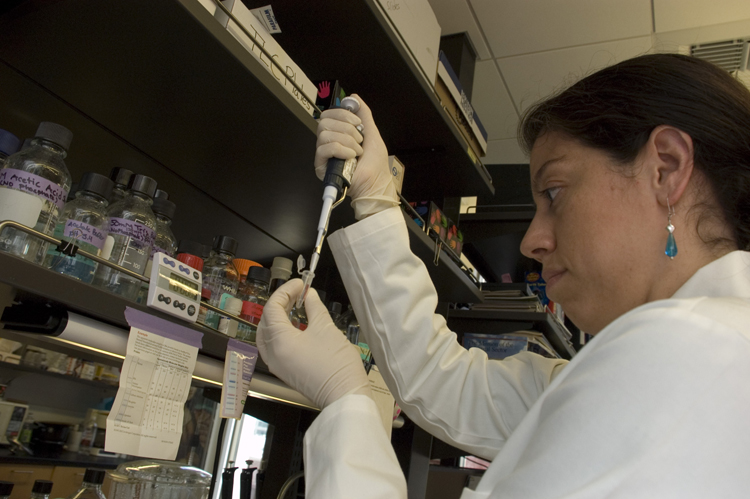 Currently, the UW Medicine Pathology Graduate Program has one Native American woman (Leslie Caromile) out of total program student body of 22. Leslie is very involved in the Native American community on campus and is very interested in recruiting additional Native American(s) to the program. Leslie is fully engaged and successful in her thesis research and her funding is secure. Among groups not currently considered minority for funding purposes, but which do add cultural diversity, we have a cardiologist from Taiwan (Dao-Fu Dao), a student from Russia (Veronika Glukhova), two Chinese citizens who fled New Orleans after Katrina (Xin Li and Fan Yang) and 2 ex-active duty military vets (Richard Fox and Adria Pontius).
Other efforts to recruit underrepresented minority graduate students include, but are not limited to the following: participation in the annual Graduate Opportunities & Minority Achievement Program (GO-MAP) Graduate School Fair; the development and distribution of the Biomedical Research Programs' marketing materials specifically designed to recruit underrepresented minorities; and involvement with the BRIDGES 4 (Biomedical Research Identification of Graduate Education Successful Student Support Services) Program. UW Medicine Pathology is also an active participant in numerous events and outreach programs sponsored by the UW Medicine School of Medicine's Office of Multicultural Affairs and the School of Social Work's Indigenous Wellness Research Institute. These collaborations have been instrumental in promoting our outreach goals and exposing the Department to underrepresented minority populations.

UW Medicine Pathology is also represented at the following annual conferences:
ABRCMS: Annual Biomedical Research Conference for Minority Students
SACNAS: Society for Advancement of Chicanos and Native Americans in Science
Education Outreach

Equally important to the Department's dynamic communication process is our commitment to community outreach in support of the Department's recruitment and retention goals. The Department regularly participates in numerous career and education fairs at various local high schools. The education/career fairs, while not directly promoting the graduate program to underrepresented minority students, are an effective way to expose prospective students, including underrepresented minority students, to educational and career opportunities within the Department. The Department's presence at these fairs has often led to follow up tours on campus, further engaging the community on a more interpersonal basis. Similarly, the UW Medicine Pathology is also an integral part of the annual University of Washington Medical Center Open House community outreach event hosted each spring. In fact, over one thousand high school and middle school students have toured the department's Autopsy Services facility, Gross Room, and research labs since 2002, receiving a hands-on, interactive tour of both clinical and research applications of pathology. We are also prominently featured each year during Dawg Daze freshman orientation, offering several interactive opportunities for incoming students to learn about our graduate program and clinical services.
More recently the Department has taken a leadership role in the organization and coordination of the bi-annual LEAP Conference (Life Sciences Education Advancement Partnership) designed to attract disadvantaged high school students to education and career opportunities in health sciences. Nearly 150 King County educators, administrators, counselors and teachers attended each event (2004 and 2006). The LEAP Conference showcases UW and non-UW programs in health sciences and increases awareness of regional science outreach programs, encouraging educators to inform their students of these opportunities. UW Medicine Pathology is also an active participant and organizer of the annual Student BioTech Expo sponsored by the Northwest Association of Biomedical Research.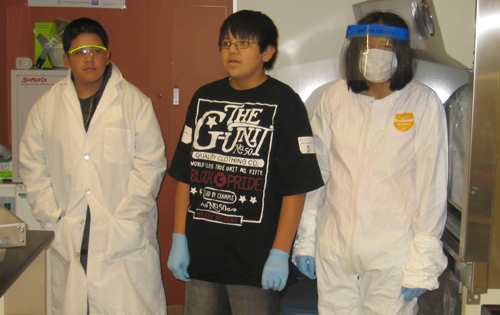 In 2006 the Department of Pathology was also pleased to announce the development and implementation of the Nelson Fausto and Ann De Lancey Endowment for Native American Education. Under the direction of Drs. Nelson Fausto (Professor and Chair of the Department of Pathology) and Ann De Lancey, the Native American Education Outreach Program was created solely to help recruit Native American students living on reservations into health-related fields.
The first group of middle-school students from the White Swan reservation in Yakima, Washington visited the Department on March 16th. The White Swan students experienced a full day of hands-on activities, including a tour of our autopsy facilities where students examined over two-dozen specially prepared organs depicting the various physiological impacts that alcohol, drug abuse and smoking have on the human body. The students also toured several research laboratories, including the Seattle Biomedical Research Institute where they learned about infectious diseases and dissected mosquitoes amongst other activities. During the mini-retreat students were also exposed to a wide range of career and educational opportunities with faculty, residents, post-doctoral fellows, graduate students, research and medical technical staff members serving as mentors for the students during their visit. In concert with the Indigenous Wellness Research Institute, all activities were commenced with a culturally appropriate ceremony in honor and respect of the Native American students and their heritage.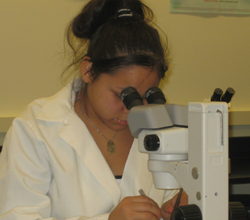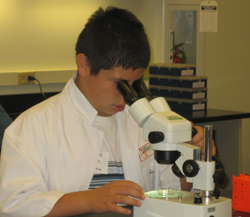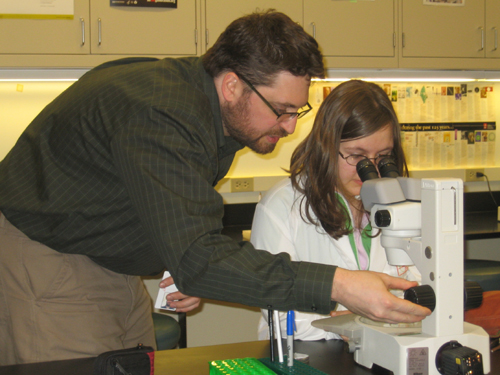 The goal of the Native American Education Outreach Program is keep the students engaged and interested in heath sciences while tracking their academic progress to help ensure their matriculation into higher education. Each ensuing program class will be similarly treated to eventually create a critical mass of students pursuing academic or healthcare-related opportunities at UW and/or other institutions. There are many challenging socio-economic and cultural obstacles that the program will undoubtedly encounter along the way, but there is also a commensurate commitment of UW Medicine Pathology faculty, students, and staff to reach out to this tragically underserved community to make meaningful progress towards improving educational and career opportunities.
UW Medicine Pathology is also actively pursuing funding opportunities in support of our minority outreach activities. Earlier this year UW Medicine Pathology applied for, but unfortunately was not awarded, a grant offered by the First Nations Development Institute Native Youth and Culture Fund.
Please contact Steve Berard at 206.685.0564 or sberard@u.washington.edu if you are interested in learning more about UW Medicine Pathology's community outreach activities.